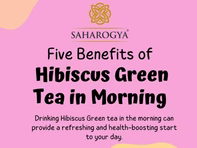 Drinking hibiscus green tea in the morning can offer several benefits, including

Boosts metabolism: Hibiscus green tea contains catechins and caffeine, which are known to boost metabolism and increase the body's fat-burning ability.

Rich in antioxidants: Both hibiscus and green tea are loaded with antioxidants that help protect your body from damage caused by free radicals, which are molecules that can harm your cells and contribute to various diseases.

Supports digestion: Hibiscus green tea can also promote digestion and alleviate constipation by acting as a natural diuretic and laxative.

May lower blood pressure: Studies have shown that hibiscus tea may help lower blood pressure levels, which can reduce the risk of heart disease and stroke.

Aids in weight loss: Green tea is known to aid in weight loss and hibiscus tea has been found to help reduce body fat.

Boosts immunity: The vitamin C content in hibiscus tea helps to boost the immune system and fight off infections.

Overall, drinking hibiscus green tea in the morning can provide a refreshing and health-boosting start to your day. However, it's important to keep in mind that moderation is key, and excessive consumption of caffeine can have negative effects on your health.
Newer Post
Discover the Potency of Mobility Gold Capsules: Natural Arthritis Relief with a Blend of Powerful Herbal Ingredients